The Story of Samson, The Strong Man /p6
He awoke, and rose up, expecting to find himself strong as before; for he did not at first know that his long hair had been cut off. But the vow to the Lord was broken, and the Lord had left him. He was now as weak as other men, and helpless in the hands of his enemies. The Philistines easily made him their prisoner; and that he might never do them more harm, they put out his eyes. Then they chained him with fetters, and sent him to prison at Gaza. And in the prison they made Samson turn a heavy millstone to grind grain, just as though he were a beast of burden.
But while Samson was in prison, his hair grew long again; and with his hair his strength came back to him; for Samson renewed his vow to the Lord.
One day, a great feast was held by the Philistines in the temple of their fish-god, Dagon. For they said:
"Our god has given Samson, our enemy, into our hand. Let us be glad together and praise Dagon."
And the temple was thronged with people, and the roof over it was also crowded with more than three thousand men and women. They sent for Samson, to rejoice over him; and Samson was led into the court of the temple, before all the people, to amuse them. After a time, Samson said to the boy who was leading him: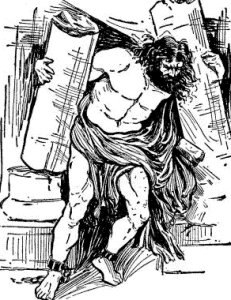 "Take me up to the front of the temple, so that I may stand by one of the pillars, and lean against it."
And while Samson stood between the two pillars, he prayed:
"O Lord God, remember me, I pray thee, and give me strength, only this once, O God: and help me, that I may obtain vengeance upon the Philistines for my two eyes!"
Then he placed one arm around the pillar on one side, and the other arm around the pillar on the other side; and he said: "Let me die with the Philistines."
And he bowed forward with all his might, and pulled the pillars over with him, bringing down the roof and all upon it upon those that were under it. Samson himself was among the dead; but in his death he killed more of the Philistines than he had killed during his life.
Then in the terror which came upon the Philistines the men of Samson's tribe came down and found his dead body, and buried it in their own land. After that it was years before the Philistines tried again to rule over the Israelites.
Samson did much to set his people free; but he might have done much more, if he had led his people, instead of trusting alone to his own strength; and if he had lived more earnestly, and not done his deeds as though he was playing pranks. There were deep faults in Samson, but at the end he sought God's help, and found it, and God used Samson to set his people free.