The Story of Joseph and His Coat of Many Colors /p2
At one time, Joseph's ten brothers were taking care of the flock in the fields near Shechem, which was nearly fifty miles from Hebron, where Jacob's tents were spread. And Jacob wished to send a message to his sons, and he called Joseph, and said to him:
"Your brothers are near Shechem with the flock. I wish that you would go to them, and take a message, and find if they are well, and if the flocks are doing well; and bring me word from them."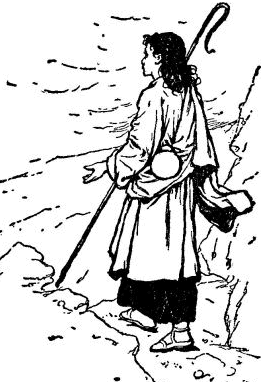 That was quite an errand, for a boy to go alone over the country, and find his way, for fifty miles, and then walk home again. But Joseph was a boy who could take care of himself, and could be trusted; so he went forth on his journey, walking northward over the mountains, past Bethlehem, and Jerusalem, and Bethel—though we are not sure those cities were then built, except Jerusalem, which was already a strong city.
When Joseph reached Shechem, he could not find his brothers, for they had taken their flocks to another place. A man met Joseph wandering in the field, and asked him, "Whom are you seeking?"
Joseph said, "I am looking for my brothers; the sons of Jacob. Can you tell me where I will find them?"
And the man said, "They are at Dothan; for I heard them say that they were going there."
Then Joseph walked over the hills to Dothan, which was fifteen miles further. And his brothers saw him afar off coming toward them. They knew him by his bright garment; and one said to another: "Look, that dreamer is coming! Come, let us kill him, and throw his body into a pit, and tell his father that some wild beast has eaten him; and then we will see what becomes of his dreams."
One of his brothers, whose name was Reuben, felt more kindly toward Joseph than the others. He said:
"Let us not kill him, but let us throw him into this pit, in the wilderness, and leave him there to die."