The Story of Joseph and His Coat of Many Colors /p1
After Jacob came back to the land of Canaan with his eleven sons, another son was born to him, the second child of his wife Rachel, whom Jacob loved so well. But soon after the baby came, his mother Rachel died, and Jacob was filled with sorrow. Even to this day you can see the place where Rachel was buried, on the road between Jerusalem and Bethlehem. Jacob named the child whom Rachel left, Benjamin; and now Jacob had twelve sons. Most of them were grown-up men; but Joseph was a boy seventeen years old, and his brother Benjamin was almost a baby.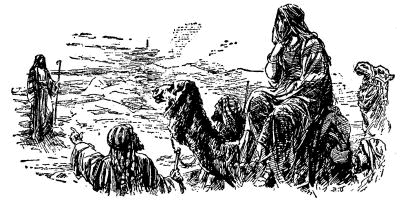 Of all his children, Jacob loved Joseph the best, because he was Rachel's child; because he was so much younger than most of his brothers; and because he was good, and faithful, and thoughtful. Jacob gave to Joseph a robe or coat of bright colors, made somewhat like a long cloak with wide sleeves. This was a special mark of Jacob's favor to Joseph
Then, too, Joseph did what was right, while his older brothers often did very wrong acts, of which Joseph sometimes told their father; and this made them very angry at Joseph. But they hated him still more because of two strange dreams he had, and of which he told them. He said one day: "Listen to this dream that I have dreamed. I dreamed that we were out in the field binding sheaves, when suddenly my sheaf stood up, and all your sheaves came around it and bowed down to my sheaf!"
And they said scornfully, "Do you suppose that the dream means that you will some time rule over us, and that we shall bow down to you?"
Then, a few days after, Joseph said, "I have dreamed again. This time, I saw in my dream the sun, and the moon, and eleven stars, all come and bow to me!"
And his father said to him, "I do not like you to dream such dreams. Shall I, and your mother, and your brothers, come and bow down before you as if you were a king?"
His brothers hated Joseph, and would not speak kindly to him; but his father thought much of what Joseph had said.