The Story of Jacob /p7
And Jacob took the stone on which his head had rested, and he set it up as a pillar, and poured oil on it as an offering to God. And Jacob named that place Bethel, which in the language that Jacob spoke means "The House of God."
And Jacob made a promise to God at that time, and said:
"If God really will go with me and will keep me in the way that I go, and will give me bread to eat and will bring me to my father's house in peace, then the Lord shall be my God: and this stone shall be the house of God, and of all that God gives me I will give back to God one-tenth as an offering."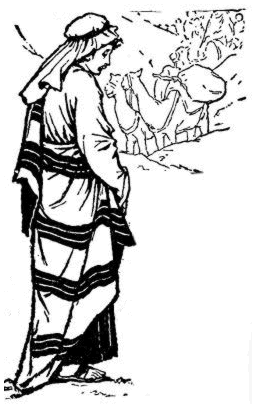 Then Jacob went onward in his long journey. He walked across the river Jordan in a shallow place, feeling his way with his staff; he climbed mountains and journeyed beside the great desert on the east, and at last came to the city of Haran. Beside the city was the well, where Abraham's servant had met Jacob's mother, Rebekah; and there, after Jacob had waited for a time, he saw a young woman coming with her sheep to give them water.
Then Jacob took off the flat stone that was over the mouth of the well, and drew water and gave it to the sheep. And when he found that this young woman was his own cousin Rachel, the daughter of Laban, he was so glad that he wept for joy. And at that moment he began to love Rachel, and longed to have her for his wife.
Rachel's father, Laban, who was Jacob's uncle, gave a welcome to Jacob, and took him into his home.
And Jacob asked Laban if he would give his daughter, Rachel, to him as his wife; and Jacob said, "If you give me Rachel, I will work for you seven years."
And Laban said, "It is better that you should have her, than that a stranger should marry her."