The Story of Jacob /p4
And Isaac said, "Who are you, my son?"
And Jacob answered, "I am Esau, your oldest son; I have done as you bade me; now sit up and eat the dinner that I have made, and then give me your blessing as you promised me."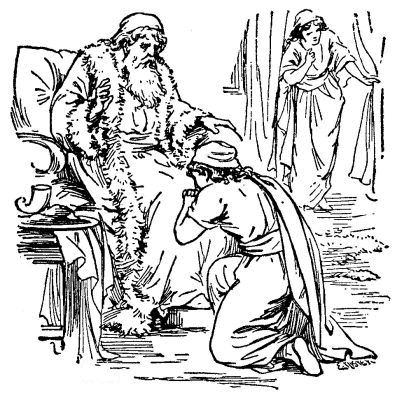 And Isaac said, "How is it that you found it so quickly?"
Jacob answered, "Because the Lord your God showed me where to go and gave me good success."
Isaac did not feel certain that it was his son Esau, and he said, "Come near and let me feel you, so that I may know that you are really my son Esau."
And Jacob went up close to Isaac's bed, and Isaac felt of his face, and his neck, and his hands, and he said:
"The voice sounds like Jacob, but the hands are the hands of Esau. Are you really my son Esau?"
And Jacob told a lie to his father, and said, "I am."
Then the old man ate the food that Jacob had brought to him; and he kissed Jacob, believing him to be Esau; and he gave him the blessing, saying to him:
"May God give you the dew of heaven, and the richness of the earth, and plenty of grain and wine. May nations bow down to you and peoples become your servants. May you be the master over your brother, and may your family and descendants that shall come from you rule over his family and his descendants. Blessed be those that bless you, and cursed be those that curse you."