The Story of Jacob /p3
Now Rebekah was listening, and heard all that Isaac had said to Esau. She knew that it would be better for Jacob to have the blessing than for Esau; and she loved Jacob more than Esau. So she called to Jacob and told him what Isaac had said to Esau, and she said: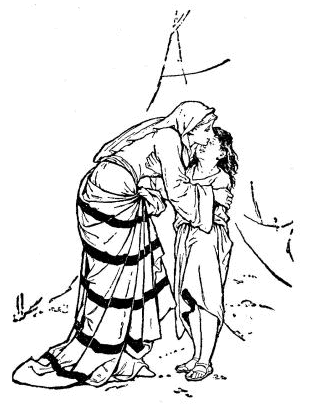 "Now, my son, do what I tell you, and you will get the blessing instead of your brother. Go to the flocks and bring to me two little kids from the goats, and I will cook them just like the meat which Esau cooks for your father. And you will bring it to your father, and he will think that you are Esau, and will give you the blessing; and it really belongs to you."
But Jacob said, "You know that Esau and I are not alike. His neck and arms are covered with hairs, while mine are smooth. My father will feel of me, and he will find that I am not Esau; and then, instead of giving me a blessing, I am afraid that he will curse me."
But Rebekah answered her son, "Never mind; you do as I have told you, and I will take care of you. If any harm comes it will come to me; so do not be afraid, but go and bring the meat."
Then Jacob went and brought a pair of little kids from the flocks, and from them his mother made a dish of food, so that it would be to the taste just as Isaac liked it. Then Rebekah found some of Esau's clothes, and dressed Jacob in them; and she placed on his neck and hands some of the skins of the kids, so that his neck and his hands would feel rough and hairy to the touch.
Then Jacob came into his father's tent, bringing the dinner, and speaking as much like Esau as he could, he said:
"Here I am, my father."