The Story of Gideon and His Three Hundred Soldiers /p1
At last the people of Israel came into the promised land, but they did evil in the sight of the Lord in worshipping Baal; and the Lord left them to suffer for their sins. Once the Midianites, living near the desert on the east of Israel, came against the tribes. The two tribes that suffered the hardest fate were Ephraim, and the part of Manasseh on the west of Jordan. For seven years the Midianites swept over their land every year, just at the time of harvest, and carried away all the crops of grain, until the Israelites had no food for themselves, and none for their sheep and cattle. The Midianites brought also their own flocks and camels without number, which ate all the grass of the field.
The people of Israel were driven away from their villages and their farms, and were compelled to hide in the caves of the mountains. And if any Israelite could raise any grain, he buried it in pits covered with earth, or in empty winepresses, where the Midianites could not find it.
One day, a man named Gideon was threshing out wheat in a hidden place, when he saw an angel sitting-under an oak-tree. The angel said to him: "You are a brave man, Gideon, and the Lord is with you. Go out boldly, and save your people from the power of the Midianites." Gideon answered the angel: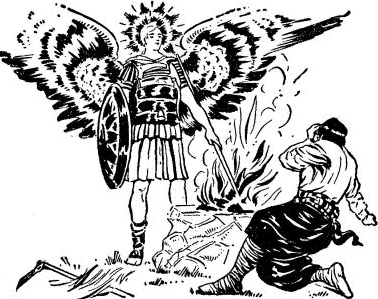 "O, Lord, how can I save Israel? Mine is a poor family in Manasseh, and I am the least in my father's house."
And the Lord said to him: "Surely I will be With you, and I will help you drive out the Midianites."
Gideon felt that it was the Lord who was talking with him, in the form of an angel. He brought an offering, and laid it on a rock before the angel. Then the angel touched the offering with his staff. At once, a fire leaped up and burned the offering; and then the angel vanished from his sight. Gideon was afraid when he saw this; but the Lord said to him: "Peace be unto you, Gideon, do not fear, for I am with you."
On the spot where the Lord appeared to Gideon, under an oak tree, near the village of Ophrah, in the tribe-land of Manasseh, Gideon built an altar and called it by a name which means: "The Lord is peace." This altar was standing long afterward in that place.