The Story of Abraham and Isaac /p2
"Stay here with the ass, while I go up yonder mountain with Isaac to worship; and when we have worshipped, we will come back to you." or Abraham believed that in some way God would bring back Isaac to life. He took the wood from the ass and placed it on Isaac, and they two walked up the mountain together.
As they were walking, Isaac said: As they were walking, Isaac said: "Father, here is the wood, but where is the lamb for the offering?"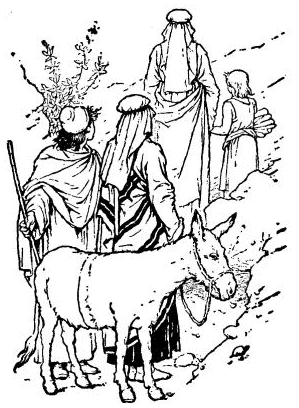 And Abraham said, "My son, God will provide himself a Lamb for a burnt offering."
And they came to the place on the top of the mountain. There Abraham built an altar of stones and earth heaped up; and on it he placed the wood. Then he tied the hands and the feet of Isaac, and laid him on the altar, on the wood. And Abraham lifted up his hand, holding a knife to kill his son. Another moment longer and Isaac would be slain by his own father's hand.
But just at that moment the angel of the Lord out of heaven called to Abraham, and said:
"Abraham! Abraham!"
And Abraham answered, "Here I am, Lord." Then the angel of the Lord said:
"Do not lay your hand upon your son. Do no harm to him. Now I know that you love God more than you love your only son, and that you are obedient to God, since you are ready to give up your son, your only son, to God."
What a relief and a joy these words from heaven brought to the heart of Abraham! How glad he was to know that it was not God's will for him to kill his son! Then Abraham looked around, and there in the thicket was a ram caught by his horns. And Abraham took the ram and offered him up for a burnt-offering in place of his son. So Abraham's words came true when he said that God would provide for himself a lamb.