The Story of the Star and the Three Wise Men /p3
Soon after this king Herod died, a very old man, cruel to the last. Then the angel of the Lord came again and spoke to Joseph in a dream, saying: "You may now take the young child back to his own land, for the king who sought to kill him is dead."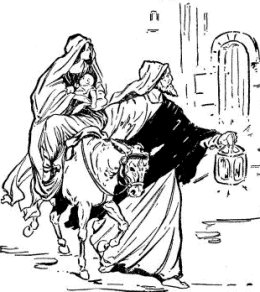 Then Joseph took his wife and the little child Jesus, and started to go again to the land of Judea. Perhaps it was his thought to go again to Bethlehem, the city of David, and there bring up the child. But he heard that in that part of the land Archelaus, a son of Herod, was now ruling, and who was as wicked and cruel as his father.
He feared to go under Archelaus' rule, and instead took his wife and the child to Nazareth, which had been his own home and that of Mary his wife before the child was born. Nazareth was in the part of the land called Galilee, which at that time was ruled by another son of king Herod, a king named Herod Antipas. He was not a good man, but was not so cruel nor bloody as his wicked father had been.
So again Joseph the carpenter and Mary his wife were living in Nazareth. And there they stayed for many years while Jesus was growing up. Jesus was not the only child in their house, and he had many other playmates among the boys of Nazareth.