---

BB on Facebook

BB on Twitter
---
[Go Back] [Print This Page] [Go to the next Page]

United Nations Day Coloring Pages
Pope Paul VI adresses the United Nations
The United Nations was founded in 1945 after World War II to replace the League of Nations organization, its goals include: to stop wars between countries, and to provide a platform for dialogue.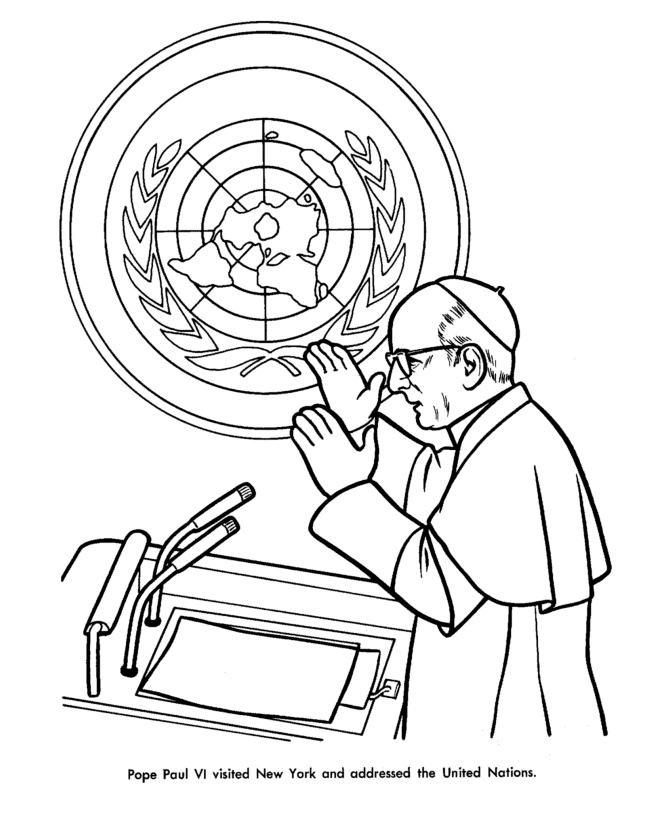 Pope Paul VI became the first pope to visit six continents, and was the most travelled pope in history to that time, earning the nickname "the Pilgrim Pope". With his travels he opened new avenues for the papacy, which were continued by his successors John Paul II and Benedict XVI. He traveled to the Holy Land in 1964, to the Eucharistic Congresses on Bombay, India and Bogota, Colombia. Fifty years after the first apparition he visited Fatima in 1967. He undertook a pastoral visit to Africa in 1969.

During the Pope's first visit to the United States in October 1965, as the U.S. involvement in the Vietnam War escalated under President Johnson, Paul VI pleaded for peace before the United Nations.